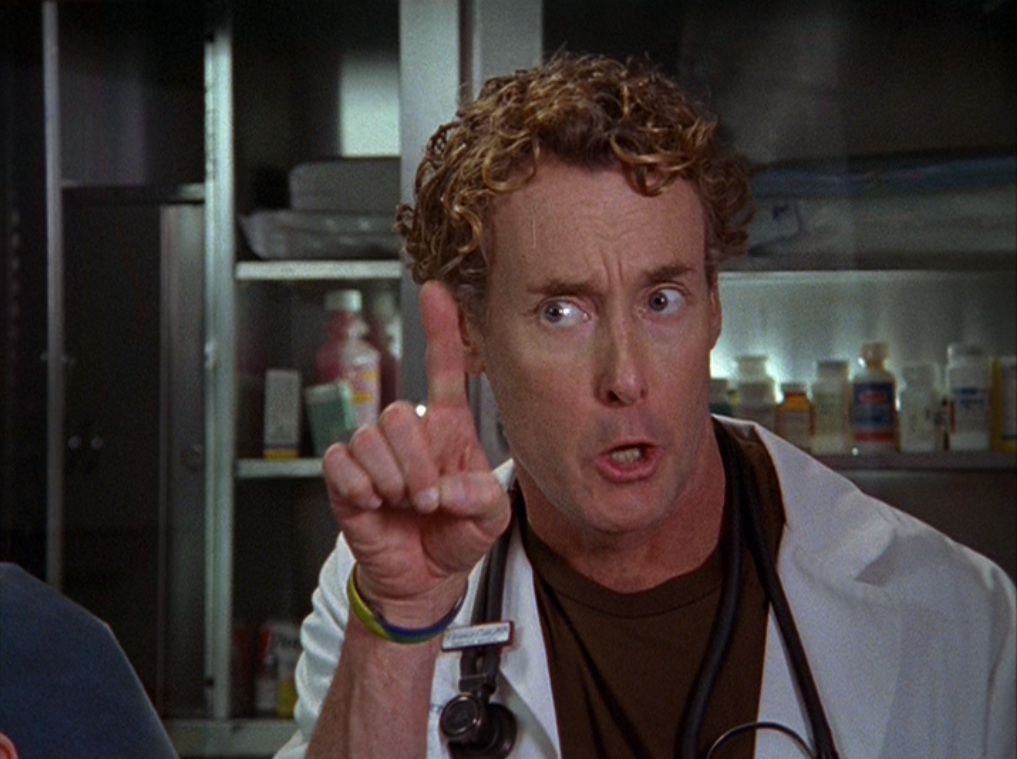 1
I get that a lot of bad things happened in 2016, but this whole "Fuck 2016," meme is getting old. (It's been old since at least November, I think.) And really, does anyone believe 2017 is going to be any better? If you consider Trump getting elected to be horrible, do you really think you're going to hate a Trump presidency any less? And with the baby boomer generation dying off, celebrity deaths are only going to become increasingly common. It's sad, but so is life, so get used to it.
2
We're at that time where bloggers are listing their favorite ____s of the year, and I keep seeing posts where people refuse to give an explanation for their choices. For example, I'll see a post like, "My Five Favorite Books I've Read this Year!" and it'll go:
Book I've never heard of.

Book I've never heard of.

Book I've never heard of.

Book I've never heard of.

Book I've never heard of.
This list means nothing to me unless you can tell me what the books are about, or at the very least, explain why you liked it. Otherwise, this post is a giant waste of time, and you should be ashamed. 
3
I hate how my interest in politics has slowly turned me into a bitter, resentful person, so much so that I even find myself hating Bernie Sanders, who I used to love. Like, I hear in the news that Bernie's going to "fight back," against a Trump presidency, and I hear him saying stuff like, "the revolution is stronger than ever." And I'm like, "fuck off, Bernie. You've accomplished nothing. Go back to naming post offices in your tiny little state of Vermont." I admit this isn't fair, but I'm so burnt out that I have no interest in being fair until at least 2018.
(Oh who I am I kidding? I'm not burnt out at all, and I will always love Bernie. May his days be long upon this earth.)
4
Also, why the hell does my candidate never win? In 2008 I wanted McCain to win, in 2012 I wanted Romney to win, (although by that point I was gradually starting to transition into the kale-eating* liberal I am today, so I wasn't too upset), and in 2016 I wanted Bernie and when he lost I started rooting for Hillary, who cramped up just five yards from the finish line. That 0 for 4. Now what are the odds of that? I did the math and it's one in sixteen, or 6.3%, which is outrageous. Is this punishment for that time I accidentally ran over a raccoon? I think it is.
* Just want to clarify that I've never actually eaten kale in my life.
5
I hate when people use the word "indescribable" to describe something. It's the ultimate cop-out for writers who are too lazy to put together a decent description. Especially bloggers. Oh, your delicious sandwich had a taste that was indescribable, you say? Well I can't even begin to describe how angry that sentence made me. Now excuse me while I unfollow your blog and never think of you again. 
(As you can tell, I'm in a bitter mood.)
6
Why does time fly when you're having fun? That seems like the least convenient time for such a phenomenon to occur. Why can't it speed up during car rides? Or when I'm at the dentist? Now that I think of it, why does it speed up at all? Time should just stay consistent, alright?
7
Why the hell does Dunkin Donuts keep putting cheese on my bacon egg croissants? I always ask for no cheese, and while the cashier always gets it right, ("no cheese" always shows up on the receipt), the guy making it rarely does. As someone who works in fast food, I must ask, why is Dunkin Donuts in particular so bad at this? Is my order so uncommon that is throws them off? Or do they just not like me because I seem like the type of person who'd bash them on my blog? The world may never know.
8
I'm gonna call bullshit on the idea that if McDonalds' had to pay their employees fifteen bucks an hour, they'd just replace most of their workers with robots. If they could do that, they'd have done it a long time ago. Twenty years from now, this might be a legitimate concern, and even then, I doubt it; people would boycott the store, the robots would be malfunctioning constantly, and all it takes is one murderous robot rampage to stop the whole thing in its tracks. Trust me, this isn't going to be an issue.
9
Speaking of McDonalds', creepy guys everywhere should know that the girl at the drive-thru window does not want to give you her phone number. Just take your food, say thank you, and drive away like a normal person.
10
I loved The Catcher in the Rye, but I find it unnerving when people praise Holden as a rebel; as someone who calls people out on their "phoniness." This was what I was told about Holden, and after reading the book, I found myself wondering just how the hell anyone got that impression. For one thing, Holden's an idiot, (that stuck out to me from page one) and his criticisms of other people are almost always shallow and hypocritical. Holden is whiny, stupid and spoiled, but the beauty of the book is that you empathize with him regardless of his many, many flaws. If you read the book and think, "Wow, that Holden kid is a real hero," then there is something seriously wrong with you.
11
I hate when children are used as props to further someone's agenda, whatever that agenda may be. Like this photo:
Now, I am very much in favor of having more diverse books for kids to read, but there is no way in hell that picture is in any way authentic. You just know for a fact that an adult handed the kid that paper and told him to smile for the camera. Hell, I doubt that's even the kid's handwriting.
I'm not sure why this bothers me as much it does. I guess it just feels … cheap? Unfair to the kid? Manipulative? I don't know, but I'm still OUTRAGED.
12
Why do people try to talk all authoritatively over things they don't know anything about? In high school I took a college-level course in Environmental Studies, and while that hardly makes me an expert on the subject, whenever someone tries to lecture me on how climate change isn't actually that big of a deal, it becomes immediately and startlingly obvious how uninformed they are. ("But we just had a really cold winter!")
The same is true for the conflicts going on in the middle east. I don't really understand what's going on over there, and I can guarantee you that 95% of Americans don't either. But that doesn't stop some people from becoming sudden experts on the Israeli-Palestinian conflict whenever the topic arises. Unless you actually know what you're talking about, don't pretend that you do. Instead you might learn something.
13
What's up with old people and drinking from the hose? (Bear with me on this one.)
As a kid, I'd often hear adults complain about how spoiled and pampered my generation is, and bragging about how, "when I was a kid, we drank water from the hose!" And I'd be like, "Cool. Would you like a medal, sir?" 
Because there is literally nothing impressive at all about drinking from a hose. As someone who did often drink water out of a hose during my childhood summers, I must say that it tasted no different than regular tap water. Albeit, a bit grassier. Did I think I was cool for doing this? No. Will I be bragging to my kids one day for it? Possibly. Either way, this whole thing is stupid, and now I'm thirsty.
14
I hate grass. It's the most useless plant. Flowers look pretty and smell nice, trees provide shade and comfort, but what does grass do? It just sits there, like a total bum. Go away, grass, no one wants you.
15
I support Colin Kaepernick's decision to take a knee during the national anthem, but I have one question that has yet to be answered.
Let's say that America listens to his message, and we collectively take initiatives to stop systematic racism and police brutality and bam! Everything is fixed. My question is: how would he know? It's going to take at least a couple months for the statistics to come back to show that his protest was successful, which I could imagine being a bit embarrassing for him when he finds out. "So for the last month or so, I've been kneeling for no reason? Damn. And my knee is so sore now."
(This has got to be the dumbest perspective anyone's ever taken on this topic. Whatever, I'm tired, and I because of my relative obscurity, I can afford to say stupid things.)
That's all for me. I gotta say, this wasn't nearly as good as my last 15 rants post.