Otherwise titled: "In which I suddenly get political for no good reason."
So I'll be voting in the New York primary on the nineteenth, and things are really heating up. People have been arguing a lot, calling Bernie a communist and Hillary a criminal, and I meanwhile am trying to make sure that whoever I do decide to vote for is the least likely to turn the country into 1984. This way, if another candidate wins and the events of 1984 actually happen in real life, I can smugly say that I, at least, voted for the other guy.
So I've been doing mad research, actually paying attention to some of the debates and looking shit up on my own, and I have now officially made my decision.
Admittedly, this official decision is totally subject to change at any moment. If John Kasich were to send me a gift basket in the mail, I'd probably vote for him because, well, gift baskets are cool. But at the moment I'm supporting someone else, and you could probably guess who it is based on the picture above.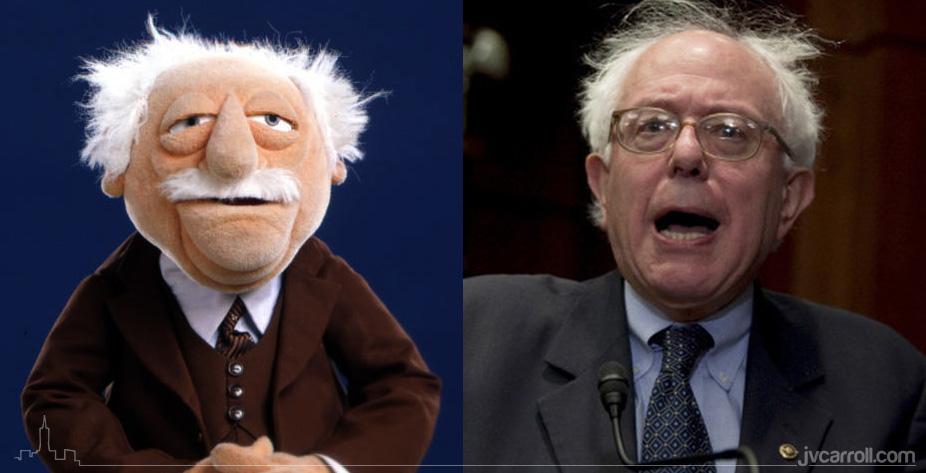 Yep, Bernie Sanders. The guy who looks like Waldorf from the Muppets. Why would I vote for such a man, you ask? Well there are plenty of reasons: he's refreshingly authentic, I sort of want to pet his head, and I love his accent. He's been a supporter of civil and LGTBQ+ rights long before it became politically convenient. Plus he's one of the few people in congress who truly seem to realize just how important this whole climate change thing is. I mean seriously, it's the most important issue of our time, one that affects literally everyone on the planet, and there are people in congress who still haven't gotten around to admitting that it's a thing that exists.
(Fun fact: Donald Trump is on record saying that global warming is a conspiracy invented by the Chinese(?) and Ted Cruz believes it was fabricated by those goddamn liberals. Liberals are pretty sneaky though, so Ted may in fact be onto something here.)
He's also on board with the legalization of marijuana, which is one of those stances that I feel like he should bring up more often. He may not be winning the minority votes, but I'm sure he's kicking ass when it comes to pizza delivery dudes and snowboarders.
Oh, and I know this is stupid but I have to share: there is a diner nearby my house that I go to a lot, (usually on late weekend nights with my friends) and Bernie Sanders showed up there this Tuesday. That's right, Bernie Sanders was at my favorite diner! I wonder what table he sat on. Hopefully it's the booth in the corner where I always sit. That would be so cool.
But not everyone feels this way, of course. Many for legitimate reasons that I actually agree with. (The dude's chill and all, but he ain't flawless.) There are a lot of Americans who don't think he'd be good for country. Some of these are people who don't quite seem to understand the difference between communism, socialism, and democratic socialism. (Hint: they're not the same thing.) And some are people who vote for Hillary because they think she has a better chance of winning the general election, which I don't really get.
I mean, I don't hate Hillary or anything, and if Sanders loses I'd easily vote for her over Ted Cruz or Donald Drumpf, but Sanders has a much better chance of winning the general election.
I don't know if you've noticed this or not, but a lot of people hate Hillary. Like, they really hate her.* She's viewed as a criminal for the whole Benghazi thing and for the email scandal and for a dozen other reasons, and all the recent polls show that Bernie has a better lead against Trump and Cruz, whereas Clinton somehow doesn't.
(*I was at a family party a couple weeks ago, and pretty much all of my adult family members said they'd vote for anyone but Hillary. Not saying this is indicative of all of America, but just thought I'd share. It boggles my mind, though, that someone could look at Trump, then look at Clinton, and actually think, "Yes, Hillary's the one we need to avoid at all costs." And not, y'know, the spoiled manchild who advocates war crimes and throws a fit every time Megyn Kelly asks him a question.)
Fun fact: Donald Trump is currently the most disliked Presidential Nominee in history, whereas Clinton comes in at second place. The only current nominee who is liked more than he's disliked is Bernie, who's supposedly unelectable. That's just weird to think about.
And then there are those saying that the only people voting for Sanders are gullible college kids who want everything for free, which is fairly obnoxious assumption to make. These critics usually go on about how young people are so entitled and naive. They usually talk about participation trophies for a little bit, then they go on about how millennials don't understand much about the real world and they're all too lazy to vote anyway so the whole campaign is pretty much a waste of time. And not gonna lie, it pisses me off.
Stupid college kids, am I right? So entitled for not wanting to have to pay tens or even hundreds of thousands of dollars for an education that may or may not get them a job in the future. So naive for thinking we could have universal healthcare in a world where pretty much every other developed country in the world has universal healthcare. What a bunch of suckers for thinking that a guy with morals could actually be president.
I'm an incoming college student who's going to be voting for Sanders, not because I want free things. (Though admittedly that would be nice.) But because I care about the environment, I care about the rights of women and minorities, and I like a president who won't go to war as anything but a last resort.
And also, uh, because of the whole legalization of marijuana thing. It seems like a good idea.