I've watched a lot of TV shows in my life, and every once in a while one of them comes along and makes everything else look like trash. One such show was season 2 of The Leftovers, which managed to be better than its first season in every conceivable way.
A quick summary: The Leftovers is a show that's about dealing with ambiguous loss. On October 14th, 2011, 2% of the world's population — with no correlation whatsoever between them — just vanished into thin air at the same time. No one knows why it happened, who is responsible, or what even happened to the people that vanished. Where did they go? Are they ever coming back? Will this happen again? The writers have no intention of answering these questions and personally I hope they never do.
This may not seem like your type of show, but if you've ever dealt with the loss of a family member, a friend, anyone you cared about. If you've ever dealt with depression, or if you've ever just been sad about something at all at any point in your life, you will connect with this show on some level.
In my case, I connected a little too deeply, and I was pretty much an emotional wreck after every episode. It changed the way I thought about my own writing, and it also redefined my perspective on life itself. 
(To be fair, my perspective on life changes about once every week .)
For this post I'm just gonna be focusing on the writing portion, as I bequeath to you some of tips I took from this show:
Don't be afraid to shake things up.
The show's first season took place in a small town in upstate New York. It was a stand-in for the rest of the world. "Anytown, USA," it might as well have been called. We followed the characters there for eight or nine months, getting to know and understand them as they got into various hijinks and tomfoolery.
And then the first episode of season 2 comes along and the focus of the show moves thousands of miles away to the town of Jarden, Texas. The opening episode focuses on a set of characters we've never met before. You don't see a single familiar face until you're forty-five minutes in. Jarring as all hell, but it worked.
But it wasn't just the setting that changed: the tone changed, the lighting changed, even the opening credits changed drastically in a way that I can't remember seeing before. Here's the opening to the first season: 
And now here's the second one:
Changing so much about the show was a pretty ballsy move, I think we can all agree, and yet it paid off better than anyone could've expected, with a show currently being praised by critics and viewers alike as one of the best on TV.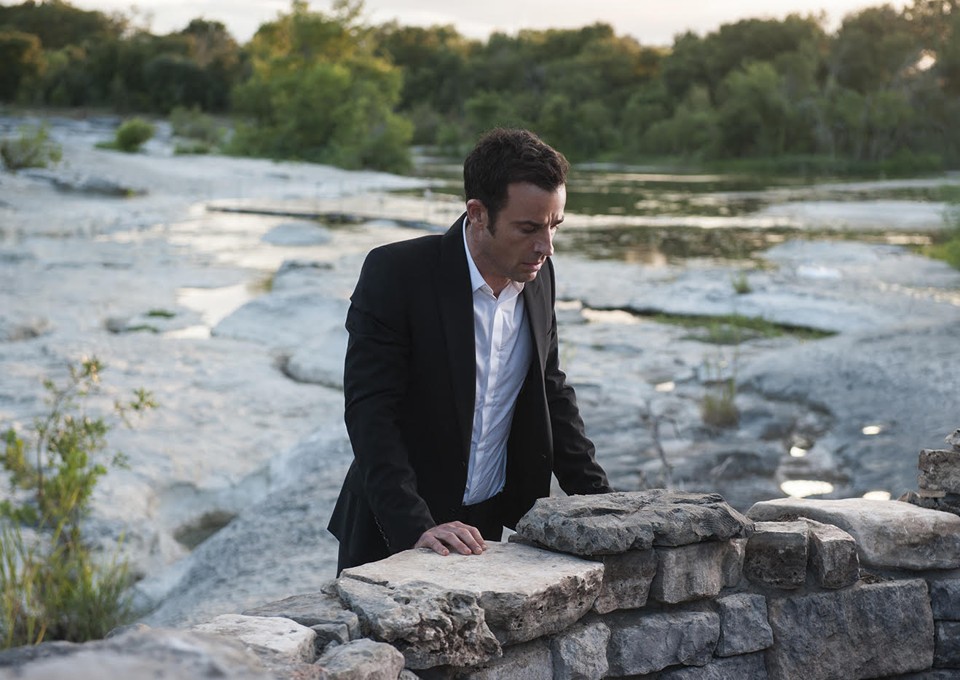 Not everything has to be explained.
In one episode we watch a character have a friendly conversation with her new neighbor, one that ends with no apparent conflict between them. The very next scene we watch as she casually walks up to the neighbor's house, picks up a rock, and throws it straight through the neighbor's window.
The show never outright explains why she decided to suddenly vandalize her neighbors' house, but the audience is left to figure it out for themselves, even though there's more than one possible conclusion for the audience to draw. The show trusts the viewers to figure shit out on their own and allows them to interpret things in different ways, and so should you.
Some things probably should be explained.
The guy who wrote The Leftovers is Damon Lindelof, who also wrote the show Lost. As a result, he has a bit of a reputation for setting up mysteries without actually resolving them in a satisfactory way. So when he decided to write another show centering around a mystery that he has admitted from the beginning would never be explained, he got an understandable amount of flak from pissed off Lost fans.
And yet, the second season of the show introduced several mysteries at once, including one really juicy one. A mystery so juicy it might as well have been a porterhouse steak. For weeks and weeks I scrolled through dozens (hundreds?) of different theories regarding it, and not only were a: none of them were right, but b: the mystery was handled in such a jaw-dropping, game-changing way that I couldn't even sleep afterwards. And I love to sleep.
The lesson here is that you can keep things ambiguous if you want, but you need to have a good grasp on what should be answered and what doesn't have to be. The Leftovers is a show that's very premise is an unanswered question, but it remains satisfying because when it comes to big reveals, it never drops the ball. 
Tell a joke for once.
While I can fanboy about this show for ages, and could probably write a novel-length essay analyzing it scene to scene, I must admit that at one point, I was thinking about quitting the show.
Around halfway through the first season, I was getting wary. The show was so dark. All the characters seemed to be digging themselves deeper and deeper into their own misery. The show at that point was utterly humorless. Humorless and hopeless, it seemed; the two worst things a story could be. 
But luckily the writers seemed to figure this out, because they started to inject some much-needed humor into the characters. And then they gave the characters hope within all the sadness, and it was raw and beautiful and cathartic and no I am not crying right now, I just have something in my eye, so shut up.
Make every moment count.
You could tell a story's well-done if you can't think of a single thing you'd cut. This wasn't case for the first four or five episodes, (which is why it's the weakest part of the show), but re-watching the season 2 premiere, it's amazing to see just how important every single moment turned out to be. Every odd detail, every facial expression. They even managed to turn a stupid knock knock joke into hardcore foreshadowing. (Yes. Hardcore.)
Not all dystopian stories have to involve an evil government that needs to be overthrown.
I remember seeing a review for The Leftovers describing the series as a dystopia, and I remember thinking, "Hm, I guess it is kind of dystopian." After all, it was about an alternate version of the world, where mysterious cults are rising up all over the U.S., and the government has no problem with killing them off if need be. 
When I usually think of Dystopian stories, I think of V for Vendetta, or The Hunger Games: where the world is terrible, but at least the readers know who's to blame. But in The Leftovers, the world can't be fixed by blowing up buildings, or shooting people with an arrow. The world's broken because each and every person in it is broken. It's a dark premise, but I think it's much more compelling than most of the dystopian books and movies I'm so used to seeing.
_____
I'm going to be honest, guys. This was less about writing tips, and more about how much I love this show. Watch it. It's lit.